Dr. Cara Camcastle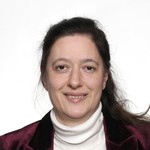 After completing her Ph.D. in political science at Queen's University, Dr. Cara Camcastle was awarded a Social Sciences and Humanities Research Council of Canada postdoctoral fellowship and attended the University of California at Berkeley as a visiting scholar.
Her successful career includes teaching several years on the faculties of both the University of British Columbia (UBC) and Simon Fraser University (SFU). Her peer-reviewed publications include papers in world-class academic journals and a book in the highly respected series of McGill-Queen's University Press: Studies in the History of Ideas. One of her areas of specialization is Canadian politics. Her expert analysis of election campaigns has been sought by the media.
Dr. Camcastle enjoys teaching at Corpus Christi College where students have more opportunity to share their ideas and respond to the reactions of others, honing their own thinking and deepening everyone's understanding. Students are encouraged to apply the knowledge they acquire through lectures and readings to contemporary issues.
Education
Ph.D. in Political Science (Queen's University)
M.A. (University of British Columbia)
B.A. Hon. (University of British Columbia)
Publications
"Beccaria's Luxury of Comfort and Happiness of the Greatest Number" Utilitas vol. 20 (1) March 2008
The More Moderate Side of Joseph de Maistre: Views on Political Liberty and Political Economy (McGill-Queen's University Press 2006)
Professional Societies
Canadian Political Science Association
British Columbia Political Science Association