Dr. Bettina Stumm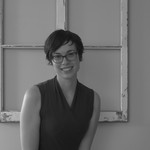 Dr. Bettina Stumm – Assistant Professor of English
Dr. Stumm completed her dissertation, "Witnessing Others: Ethical Responsibility in Relational Life Writing" at the University of British Columbia in 2010 and taught in the English Department and the Coordinated Arts Program at UBC from 2008-2013. She currently teaches English Literature and Social Justice & Peace Studies at Corpus Christi College.
Research and Teaching
In her research and teaching, Dr. Stumm draws together the disciplines of English, Trauma and Cultural Studies, Ethics, Religion, and Philosophy to examine the multi-dimensional quality of literary texts. Her research centers on the nature of ethical responsibility in life writing and collaboration, particularly the demands and dilemmas that arise in writing the stories of others. Recently, she has also begun to explore the role that aesthetics and the creative arts play in motivating ethical responsibility in literary and local contexts. In her teaching, she focuses on the ways that literature relates to life. In particular, she invites students to examine how literature reveals our fundamental human concerns, challenges our thinking, and acts in the world. Alongside these pursuits, she has had a longstanding passion to seek God in unusual places, like in modernist literature, critical theory, and secular culture, and encourages others to do the same. This year she will be teaching English 230: Classical and Biblical Literature, English 233: Canadian Literature, SJPS 111: Introduction to Social Justice and Peace, and SJPS 228: Human Rights Violations: Voices from the Margins.
Publications
Dr. Stumm has co-written a Holocaust account with survivor Rhodea Shandler entitled A Long Labour: A Dutch Mother's Holocaust Memoir (Ronsdale Press, 2007). She has also published a number of academic articles in areas of autobiography, trauma, ethics, cultural studies, and philosophy including:
"Collaborative Translation: The Relation Dimensions of Translating Holocaust Trauma" in Translating Holocaust Trauma (Gottingen: Vanderheock & Ruprecht). Forthcoming. 22 pp.
"Displacement, Dialogue, and Literary Dwelling: Reflections on Creative Life Writing from Vancouver's Downtown Eastside." in a/b: Auto/biography Studies 30.2 (Autumn 2015): 20 pp.
"Witnessing Others in Narrative Collaboration: Ethical Responsibility Beyond Recognition" in Biography 37.3 (Summer 2014): 762-783.
"The Intersubjective Ethics of Dialogue" in Cultural Studies <-> Critical Methodologies 14.4 (August 2014): 385-395.
"Testifying to the Infinity of the Other: The Sacred and Ethical Dimensions of Secondary Witnessing in Anne Karpf's "The War After" in Through a Glass Darkly: Suffering, the Sacred, and the Sublime in Literature and Theory (Wilfrid Laurier UP, 2010).
In her spare time, Dr. Stumm can be found enjoying the great outdoors (preferably not in the rain), volunteering on the Downtown Eastside, playing music, making art, sewing stuff, and eating chocolate.