Kenton MacDonald-Lin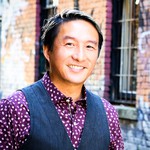 Kenton MacDonald-Lin has been in the media, film, and commercial photography sector since 2003 in Vancouver. Before branding and storytelling was part of our current marketing language, he was involved in helping non-profits and businesses telling their stories. Working alongside and learning from the best in these industries, he is a mix of being a creative and a people person. He has produced and directed film, documentaries and has helped companies with their brand-storytelling.
Being an instructor in the arts and communications program at Corpus Christi is an honour. He writes, "So much of our culture has been shaped by media and film. Walking along side students to explore, ask tough questions, and ignite imagination vocation and leadership in society through arts is one of my passions. As co-learners, co-creators, co-collaborators, let's learn, create, and change the world through storytelling!"
He excited about the various courses in film, screenplay writing, production, acting, film history and religion that will be at Corpus Christi in the semesters to come.